Maplewood Train Station - Tunnel Artwork
Art In Motion
The Maplewood Arts Council is proud to present Art In Motion - a collection of eight paintings that hang on the tunnel walls of the Maplewood Train Station underpass.
We received about 100 applications to our Request For Proposals, which were solicited from artists living along the Morris and Essex train line. Information about each artist is below (forthcoming).
We are so grateful to the hundreds of Maplewoodians who donated to this project, 100% of which went to paying the artists for their work, and for the installation and maintenance of the paintings. We are also grateful to our major sponsors: The Able Baker, [words] Bookstore, Pollock Properties Group, and Michael Choy & Shannon Moffet. Big thanks to NJ Transit, and Maplewood's Department of Public Works for helping make this happen.
by Adam Gustavson, West Orange
[Flash vinyl paint, ink, and enamel on panel]
The artist says: "The Tunnelers—a badger, a groundhog, several worms, and other assorted critters—are all travelers or makers of subterranean passageways. A pedestrian underpass seems like a natural place for them to be commuting through, while the commute, in itself, is the magical equalizer of the suburbs. Whatever our pecking order or business, even the hungry owls and tempting moles have to tolerate each other while in transit."
Adam Gustavson's art has appeared in over 30 books for young readers, as well as the eastbound stairwell of NJ Transit's Highland Avenue Station and the children's placemats at The Cassidy restaurant in Maplewood.
Instagram: @gustavsonadam
by Aimee Mower Lally, Maplewood
[acrylic paint on board]
The artist says: "This piece came from a series of of paintings titled 'In Between Spaces,' which documents the journey between New York City and the suburbs of New Jersey. It contemplates our comings and goings and all that lies between—the rapidly changing landscape and the life transitions that lead us to where we are."
Aimee Mower Lally has been making and teaching art for 30 years. She received an MFA from The School of the Art Institute of Chicago. She has shown in galleries in New York and Chicago.
by Shauna Cagan and Jen McClory, Maplewood.
[Doodle, vinyl wallpaper]
The artists say:
Shauna: "I am generally obsessed with repeating patterns, and was excited to be able to combine this with my adoration for our two towns. Also, I'm always interested in doodles and simple drawings of all sorts."
Jennifer: "We were excited to think about the little places and things that make Maplewood feel distinctive, from the rubber ducks of Memorial Day to the rainbow crosswalk near Town Hall."
Shauna Cagan is a freelance designer and illustrator, originally from Cleveland, Ohio. After living in L.A., Boston, and Brooklyn, she currently resides in Maplewood with her husband and two sons. She spends her time drawing and crafting.
shauna.cagan@gmail.com; Instagram @shauna.cagan
Jennifer McClory is a graphic designer, Post-It Note doodler, and special education teacher. She is originally from Evanston, IL, the Maplewood of the Midwest.
Instagram @jennifermcclory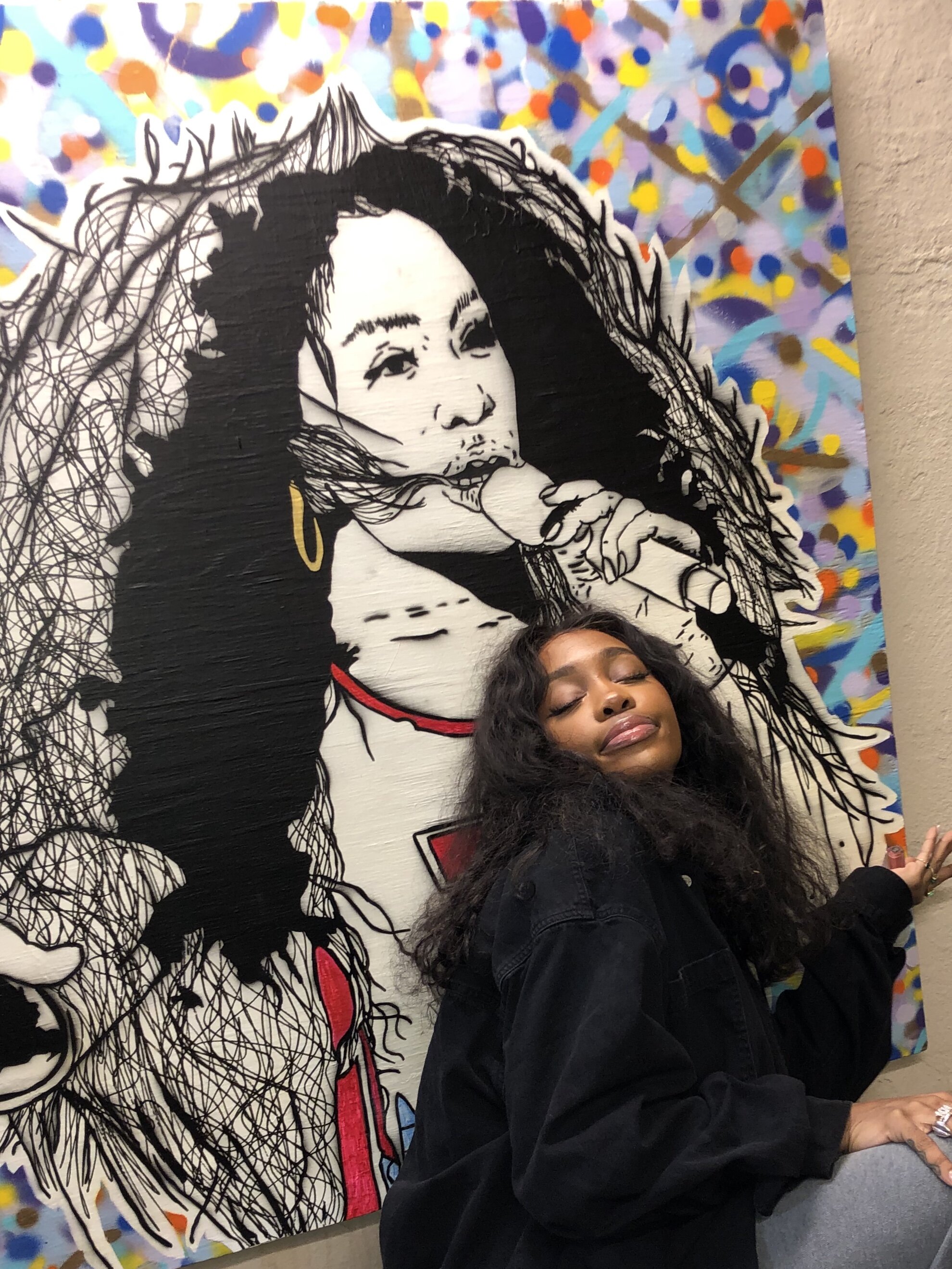 by Lawrence Ciarallo, Hoboken
[Acrylic and spray paint]
The artist says: "This piece is a tribute to Grammy-nominated recording artist and Maplewood native Sza. My paintings and murals are inspired by the endless beauty that exists amidst the chaos. To exemplify this spectrum, I incorporate a mixture of collage, abstraction and portraiture...My objective is to create pieces that stimulate, entertain, inform, and engage."
Lawrence Ciarallo is an artist, designer, and muralist whose work addresses a myriad of topics and honors a diverse group of individuals. He also works with Young New Yorkers, a New York City-based organization that provides diversion programs to court-involved young people, as a program assistant.
www.lawrenceciarallo.com; lawrence.ciarallo@gmail.com;
Instagram @lawrenceciarallo
by Jay Pingree, Maplewood
[acrylic paint]
The artist says: "I work from my own long exposure photographs. I'm fascinated by the distortions and compressed, simplified forms that appear in these blurred images, almost as if painting with the camera. These photos inform my paintings; I use the abstracted images to encourage my own ever-evolving freedom with the paint."

Jay Pingree was born and raised in Michigan, studied at UNC Asheville, spent ten years in New York, and has been in Maplewood since 2010. He is currently represented by the Nordic Art Agency in Malmö, Sweden and The Soden Collection in Shewsbury, England. His upcoming solo show with the Nordic Art Agency will be in April of 2020.
pingreeart@hotmail.com; Instagram @pingreeart
by Lisa Lackey, Maplewood
[Fabric, fabric paint, up-cycled vegetable bags]
The artist says: "I work to capture an organic moment of everyday life, when the artistic constructs of color, depth, pattern, texture, and composition coalesce into a moment of beauty. I challenge myself to recreate that brief instant using commercially available fabrics and (in most cases, but not this one) traditional machine and hand sewing techniques."
Lisa Lackey is a graduate of the University of Kansas in Architectural Engineering and the School of Visual Arts with a Master of Fine Arts. She has had her work exhibited in Suwon and Seoul, Korea; the Noho55 Gallery, in Chelsea; and the Monmouth Museum, in New Jersey. Lisa is a member of the Textile Study Group of New York and has served on its Board of Directors.
lisalackyartist@gmail.com; Instagram @Lisa Lackey
by Ekaterina Ermilkina, West Caldwell

[Oil painting]

The artist says: "Architecture first drew me in and became a subject of my painting while I was in graduate school…When I first came to the U.S., the experience of seeing skyscrapers for the first time had an enormous imaginative impact. The modernist style of the buildings seemed to demand a more modernist artistic approach, and I was inspired to create my urban series."
Born in Russia, Ekaterina Ermilkina now lives and works in New Jersey. She received her MFA from Saint Petersburg State Art and Industry Academy.
www.ermilkina.com e_ermilkina@yahoo.com Instagram @ekaterinaermilkina
by Moss Freedman, Maplewood
[Acrylic paint]
The artist says: "This work is a surrealist nod to Maplewood's 1930's beginnings, when it was known as a country hamlet and escape from the hustle and bustle of New York City. As contemporary Maplewoodians walk by the piece, they're reminded that weekend fun and relaxation is a funky picnic basket away."
Moss Freedman is a fine artist living in Maplewood, NJ. He is currently an adjunct professor at Seton Hall University and an art instructor at the One River School of Art and Design in Millburn, NJ.
Moss.freedman@gmail.com; Instagram @mosstiki